John Blaber's Family - The Scottish Years: 1988 - Present
Page last updated: 2 June 2015
Church and Organ
I took up the full-time appointment of resident organist and choirmaster at St Mary's Dalmahoy, Edinburgh on 16th July 2006 and retired from being a full-time organist on 25th May 2014.
I was then appointed Organist Emeritus of St Mary's Dalmahoy.
I now deputise at various churches as and when required. This is very interesting as I get to play many different organs of all sizes and locations within buildings and attend a wide range of service types.




The Organ - St Mary's Dalmahoy, Edinburgh
My final 'fling' was giving an organ recital at Chester Cathedral on 4th October 2014, which was very enjoyable and great fun. A CD was produced.

Chester Cathedral

John at the console 4th October 2014



St Mary's, Dalmahoy

John at the pre-2009 console
In November 1988 we moved to Scotland as I took up the post of Manager of Scottish Operations for John Crane UK Ltd. I was appointed organist and choirmaster of Christ Church, Lanark. Here I was able to redesign the 2-manual pipe organ and had it rebuilt and remodelled, with additional stops, by Rushworth and Dreaper. I resigned from this post in 1994.
I still play occasionally at Christ Church for mid-week services and special occasions.




Christ Church, Lanark

John at the console during the rebuild. Only three stops fitted at date of photograph. The church was full of organ pipes!!



Christ Church, Lanark

Note the very welcome heater in a cold church.

Sunday, 26 February 2006. John back in the organ loft at Christ Church, Lanark, playing the final voluntary.
In 1994 I transferred to St Paul & St John the Evangelist Church, Airdrie, Lanarkshire, as organist and choirmaster. Here we were lucky enough to have two organs. We received (June 1997) over £19,000 from the National Lottery Fund towards rebuilding the smaller 2-manual Chancel Organ of this church. The total cost of the work was £25,000. The contract was awarded to Rushworth and Dreaper of Liverpool, and the organ was re-dedicated by the Bishop of Glasgow and Galloway on Thursday, 30th April 1998. We also celebrated the centenary of the church on this date. I resigned from this church in April 2001.

Here is a video of me practising on the main organ in 2000. Lots of wrong notes, but it was perfect on the day of performance!!
Click here for video John Airdire 2000.wmv




St Paul and St John the Evangelist, Airdrie

The Main Organ console is in the foreground (excuse the red candles - the photo was taken Christmas 2000). The small Chancel Organ can be seen in the background
From May 2001, we were members of St Mary's Episcopal Cathedral, Edinburgh until June 2006. This beautiful cathedral is the largest ecclesiastic building in Scotland. Uniquely in Scotland, it maintains daily choral services, with arguably the best choir in Scotland, with the treble line drawn from pupils of St Mary's Music School.
Click here to go to the Cathedral's web site.
Click here for details of the four-manual Father Willis organ at Edinburgh Cathedral.
---
Work
In May 1994 I was appointed International Customer Training Manager for John Crane, Europe, Middle East, Asia and Africa (EAA), travelling the world (except the Americas) organising and running training courses for our customers. My most interesting trip in 1996 was to Chennai (Madras), India, and that of 1997 was to Israel, training in a state owned oil refinery.
| | |
| --- | --- |
| | Also during 1997 I travelled to Finland and Sweden to collect information to develop a training course for the Pulp & Paper Industry. |
A couple of interesting trips I made during 1998:

1. Driving to the Czech Republic, via the Channel Tunnel, France, Belgium and Germany, to Rosnov which is in the East of the Czech republic, close to the Slovak border. A journey of 3.1/2 days each way from Scotland! I ran a week-long training course there for the Czech Oil Refineries, in a superb hotel in a very beautiful part of the country, well away from the industrial areas.

2. Qatar, Middle East, December 1998. I ran two courses for RasGas Liquified Natural Gas Company. Very enjoyable - good courses, great people, interesting scenery (flat desert), perfect weather. Only problem was that the UK & USA decided to bomb Iraq which rather delayed my return to the UK! However, I made it home in time for Christmas - just.
I returned to the Middle East in February 1999 to run three courses for the state owned Israel Electricity Corporation at their Training Centre. Another very enjoyable trip, and I managed to spend a day sight-seeing in Jerusalem. Unfortunately, it was very cold and rained all day. This was surprising as there was quite a severe drought at the time! The weather for the rest of my stay was hot and sunny.
(That's little me - sixth from the right - at the Electricity Corporation Training Centre, with some of the course delegates.)
Another interesting trip in October 1999 was to Kuwait, running three training courses for Equate Petrochemicals. I was invited back by Equate Petrochemicals in 2002 and in April I ran another four courses. From there, I went to Bahrain and Saudi Arabia for four weeks - see below.
Until my leaving John Crane EAA in July 2005 (see below) I spent three months per year in the Middle East (e.g., Saudi Arabia, Bahrain, Kuwait, Qatar), running training courses for companies such as Saudi Aramco and SABIC, which were very enjoyable experiences.
Training Course for Saudi Aramco in Al-Khobar, May 2002

In left-hand picture, John is on back row, 4th from right.
In July 2005 I took early retirement from John Crane EAA. My final training trip to the Middle East for John Crane was to run some courses at Qatar Chemicals (Q-Chem) in January/February 2005
(Photograph to the right taken on the plant at Q-Chem, Qatar - I'm in the blue shirt!)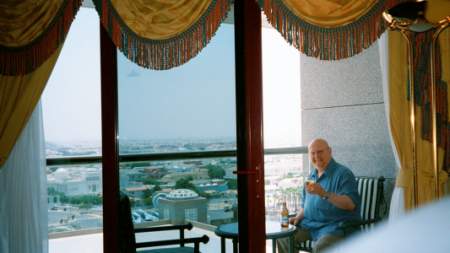 John taking a cool (non-alcoholic) drink on the balcony in the Jeddah Hilton, Saudi Arabia, after a hard day's lecturing!
I am now Managing Director of the international specialist Oil & Gas Industries engineering training company - Mnemonics Training Limited.
---
For information: The background to this page is the Murray of Atholl tartan, our family clan.
---
| Home | Guest Book | Index | Genealogy | GEDCOM Info | Family Trees | Family News | Message Board | Maps | Census Dates | Lewes Churches | English Years | Scottish Years

|

Where's John | Useful Facts |
© 2020 John Arthur Blaber